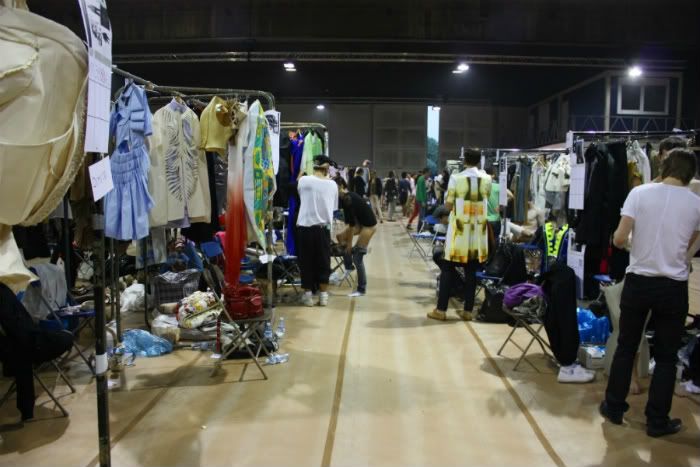 This AH-mazing shoes collection!!! is from:

Matthias Weber

<3 well made :* and beautiful :)
Skirts from the

Fashion student

from the first year!!! <3 really creative ...
Just have a big Smile on my face when i think about my last WE. I spent 2 days with 2 begian bloggers in

Antwerp

SARAH (
http://c-le-chic.blogspot.com
)
and AFRODITE (
http://thefashionfolio.blogspot.com/
)
to visit the

Fashionshow

of the "
ROYAL ACADEMY OF FINE ARTS ANTWERP
".
Before the Show began, we got
Backstage-passes
and got a

chance

to see how things gonna work before the show all will start. Full of

excitements

and

expectations

, we 3 ran around and tried to get

photos

from everything which crossed our way. We were dazzled from the collections of the designers, which very colourfull, extraordinary, experimental and of course professional created. Got helps from professional
make-up artists, hair-/ stylists
and
models
the
designers
/
fashion students
were best equipped
.
This lovely <3
outfit
was in the collection from:
Frederick Adrian Hornof
!!! one of my favourite
Student
... !!!
On the stage, the

models

were so cool and calm, that nobody in the audience could be realize what kind of

hecticness

and close to

chaos

, in the backstage broken out.
Every collection of every single

designers

/

fashion students

was such a big surprise for us. The three long hourly

Fashionshow

was

phenomenal

.... The Ideas and creations were so
inimitable, the

silhouettes

and

designs

were really exciting. It was
bold
,
fresh
and very
shinny
. But i think to get this feeling from the show, you have to be there to feel it. The above
pictures
, am gonna show you some outfits to get an
impression
of the show...
I can´t wait to see the show off #5... <3 Cross the finger and wish more fashion next year :* 2012....